Introduction
Virtual reality is completely transforming the real estate and property development businesses.  In this blog post we will see how and why this is happening and discuss five ways in which its implementation is of great advantage to both property buyers, tenants, and property marketing agencies.
Virtual reality has changed the way that prospective buyers and tenants can view existing properties and unbuilt residential and commercial architecture. According to a survey of the National Association of Realtors (of USA), 99% of Millennials search on online websites when looking at property compared to 90% of Older Baby Boomers and 70% of the Silent Generation (i.e. those born between 1928-1945). Click here to view the full feature. These statistics show how important it is to make use of digital technology.
How VR is used in property marketing
Virtual property showcases
Clients normally visit many existing properties before making up their minds about which one to buy, and sometimes want to return to some favourite options before making the final decision. This takes up a lot of time and can be highly inconvenient if the client has to travel great distances to get there. Furthermore, arranging a viewing time that is convenient for the estate agent, the client, and often, the current owner, can be a very complicated business.
With VR technology all these problems disappear. With the aid of a VR headset immersive three-dimensional walk-throughs of properties can be experienced. This means that in the comfort of their own homes, millions of people can virtually visit properties at any time of the day or night, without needing to arrange an appointment. After going through a number of options quickly in this way, they can then decide which ones they want to visit in person.
The challenge of selling a property that has not been built yet is even bigger. Traditionally, large three-dimensional physical models are used to show the overall appearance of a property. Interiors are shown by means of large showrooms with full-scale models of apartments. This, of course, is very expensive and virtual reality can save a property developer a considerable amount of money by replacing these.
There are two types of 3D virtual tours:
Guided tours. These can be either fully virtual or a simpler 360 degree video and are ideal for an existing property. Since they can be produced quite simply, all you need is a panoramic camera that can take a 360 degree video. This makes them relatively inexpensive. The simpler version, which is a two-dimensional 360 tour, makes up for its lack of immersive experience by means of its sheer versatility. It can be viewed without a VR headset on a computer screen or phone and be posted on social media. A potential client who is looking for something else on the internet might stumble upon it and show immediate interest. This is where it is very valuable. That person, who might only have a few seconds available, can then quickly do a tour of the apartment in that limited period of time, and then proceed to more immersive research when they have more time. This version is also less expensive than the fully immersive one.


Interactive tours. These offer the client the choice of where to move, from one room to another, by clicking on special hotspots in the field of view. The production of interactive virtual tours is more complicated and therefore also more costly, but their interactive nature makes them more fully immersive and ultimately, this can bring the greatest rewards. When a potential buyer is getting excited about a space, and feeling that this could be their dream home, it is vitally important that this experience should be as real and captivating as possible. If they want to see the bedroom or kitchen one more time and can do so at will, it could be decisive.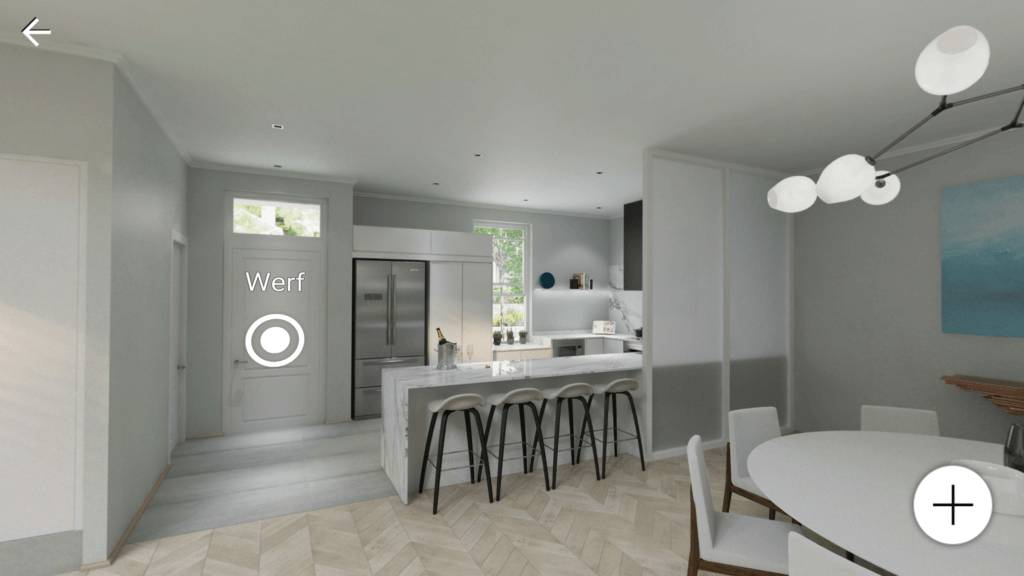 Benefits
Here is a list of the main benefits of using VR technology in property marketing:
Saves time. This is a major benefit. Neither clients nor estate agents need to travel from one property to another through heavy traffic, often at inconvenient hours. Clients can now virtually visit properties at any time of day or night, in the comfort of their own homes, without taking up any of the estate agent's time.


Saves money. Compared to traditional real estate marketing, with its three-dimensional physical models, full-scale models of apartment interiors occupying large showrooms, and lots of printed material, especially of high quality pictures – all of which is expensive, the cost of virtual reality, which can replace all of the above, is remarkably low. It is produced one time, and is used again and again. You can save a lot of money with this technology – especially when factoring in the amount of time that it also saves you, as well as the fact that you can now focus on reaching out to many more clients in this freed-up time.


Builds emotional connections. Because clients can do a VR tour at any time that is convenient, they can take their time studying details and soaking up the atmosphere or feel of the place. This, together with the fact that such tours are fully immersive (unlike conventional 2D images) enables the client to make a strong emotional connection with the property. They also have the power to share what they like due to the digital nature of this marketing format, helping you further the reach of your campaigns.


Offers global reach. VR technology allows property marketing agencies to showcase properties to potential buyers from anywhere in the world.


Establishing a sense of ownership. The immersive nature of the VR experience, together with the fact that clients can virtually visit the property at any time and for as long as they want facilitates a strong sense of personal connection to the place and a concomitant sense of ownership.
And finally …
Property marketing is being transformed by virtual reality. It is essential to look at using this new technology if you haven't already, so that you stay up to date with the latest technological developments, and most importantly, stay on track with your sales targets.
If you want to learn more about using VR for a project that you have in mind, you can reach out to us by visiting our contact page here.